open today until 4:00 P.M.
2950 W Interstate 20
Grand Prairie, TX 75052-8079
Shop Online

Pick up in store
Visit Us

Make an appointment
(972) 606-4817
Store hours
Store Hours
WEDNESDAY
10:00 AM - 9:00 PM
THURSDAY
10:00 AM - 9:00 PM
FRIDAY
10:00 AM - 9:00 PM
SATURDAY
10:00 AM - 9:00 PM
SUNDAY
12:00 PM - 6:00 PM
MONDAY
10:00 AM - 9:00 PM
TUESDAY
10:00 AM - 9:00 PM
Locations Map
open today until 4:00 P.M.

CUSTOM JEWELRY DESIGN
Meet with our experts and create one-of-a-kind jewelry at the Jared Custom Design Studio.

ON-SITE JEWELRY & watch REPAIR
Big to small fixes, our jewelry experts are trained to repair your rings, necklaces, bracelets, and more.

ENGRAVING & PERSONALIZATION
Add a personal touch to jewelry with engravings and personalizations for necklaces, bracelets, rings, and more.

RING SIZING
Make your ring a perfect fit. We offer same-day ring sizing appointments which can be finished with an hour.

JEWELRY CLEANING
Cleanings at Jared include a close inspection of settings and stones to ensure your jewelry is excellent shape.

UPGRADES & TRADE-INS
We make it simple to trade-in your diamond jewelry purchased at Jared and upgrade your collection.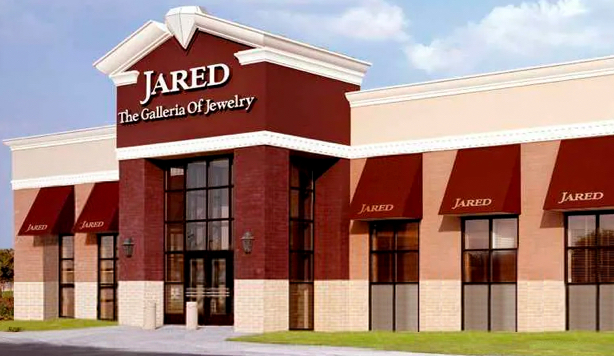 About Jared Jewelry
The first Jared store opened its doors in 1993, revolutionizing the whole idea of how a jewelry store should operate. Jared is not located inside the mall. Our guests come just to see us. And we do everything we can to make their visit enjoyable as well as successful. We offer five times the selection of ordinary jewelry stores, price it well, and present it with the help of a team of experts, thereby creating the ultimate jewelry shopping experience. Come learn more about our engagement and wedding rings, diamonds, gemstones, watches, and personalized jewelry. Visit Jared today.